What to see
Community Trails
Wiscasset is home to approximately 20 miles of trails that are open for your enjoyment. These trails provide opportunities for recreation and good health as well as a chance to understand more about Wiscasset's natural and cultural history. Here you can walk beside a salt marsh, hike through a quiet forest, wander along a farm field, steer your canoe down a saltwater river, and study fine examples of 18th- and 19th-century architecture. 
Overview of Trails in Wiscasset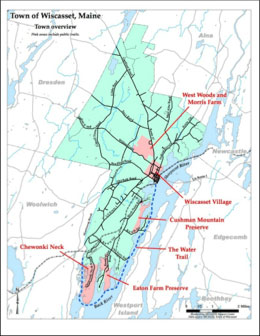 If you would like detailed maps and descriptions of each trail system, please visit the Planning & Codes office at the Town Office, or contact the Town Planner, at (207) 882.8200 x106 or [email protected]. 
Other Attractions
Chewonki Foundation
Campground / Educational
485 Chewonki Neck Road
Wiscasset, ME 04578
Distance from airport: 1.6 mi
207.882.7323
www.chewonki.org
Castle Tucker
Historic Building/Museum
2 Lee Street
Wiscasset, ME 04578
Distance from airport: 4.2 mi
207.882.7169
www.historicnewengland.com
The Maine Art Gallery, Inc.
Educational Fine Arts Organization
151 Warren Street
Wiscasset, ME 04578
Distance from airport: 4.5 mi
207.882.7511
www.maineartgallery.org
Morris Farm Trust
Educational Farm & Community Farm Store
156 Gardiner Road
Wiscasset, ME 04578
Distance from airport: 4.9 mi
207.882.4080
www.morrisfarm.org
Nickels-Sortwell House
Historic Building/Museum
121 Main Street
Wiscasset, ME 04578
Distance from airport: 4.4 mi
207.882.7169
www.historicnewengland.com
Museum in the Streets
Historical Building Walking Tour
Wiscasset Village
Distance from airport: 4.5 mi
207.882.4393
www.facebook.com/WiscassetMuseumInTheStreets/
Monkey C Monkey Do
Family Adventure Park
698 Bath Road
Wiscasset, ME 04578
Distance from airport: 1.2 mi
207.882.6861
www.monkeycmonkeydo.com
Wiscasset Waterfront